MAUI NUI CANOE RACE 2012
Event Description: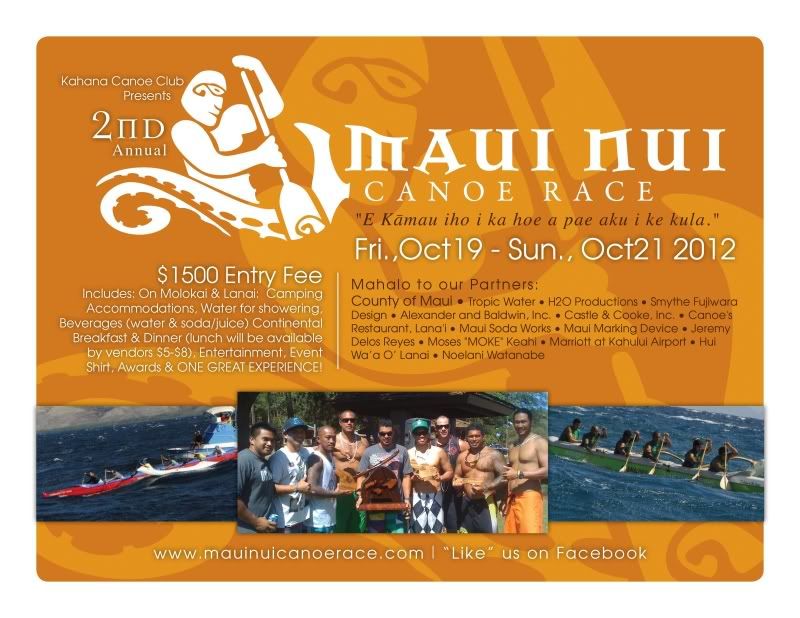 *** Maui Nui Canoe Race Committee has limited the 2012 race entries to TEN (10) canoes ***
FIRST COME FIRST SERVE... IN ORDER TO HOLD A SPOT YOU MUST PAY YOUR ENTRY FEE
The Maui Nui Canoe Race is the brainchild of the Kahana Canoe Club. The Maui Nui Canoe Race is an ambitious undertaking that will challenge the skill and endurance of all participants. With over 100 miles of paddling this race will span a length of 3 days. At an affordable price this is not only a great value but will garner interest from ocean enthusiasts around the globe.
The islands of Maui, Moloka'i and Lana'i are prime and the channels that surround it are also some of the most challenging in the world. It is the goal of the Maui Nui Canoe Race Planning Committee to:
• Help keep the traditions of wa'a thriving on the neighbor islands
• Create partnerships within the community
• Share the Hawaiian culture with the visitor and educate the resident
• Help support local businesses and the economy
• Encourage healthy fitness lifestyle alternatives.
Posted by mauinui on Thu, 08/23/2012 - 11:10am