MAUI NUI CANOE RACE
Event Description:
The Maui Nui Canoe Race
Maui > Moloka'i > Lana'i > Maui
October 17-19, 2014
ENTRY FEE
$1200.00
Race Includes
Camping Area's on Molokai and Lanai, Continental Breakfast, lunch & Dinner provided on Molokai. Lanai (lunch vendors will be present) Water / Soda, Race Shirt, Awards, end of the race Luau
LOGISTICS
October 17 – Maliko to Kamalo (38 miles) 9:00am start
October 18 – Kamalo to Hulopoe Bay (42 miles) 8:00am start
October 19 – Hulopoe Bay to Hanakao'o Beach (20 miles) 8:00am start
October 19– Hanakao'o Beach – End of the Race Luau & Awards
TYPES OF CANOES
HCRA Approved (400lbs)
Unlimited canoe (200lbs)
DIVISIONS (MEN & WOMEN)
Open (9 men / 10 women)
Master 40/50 (9 men / 10 women )
Open mix (10 total must have at least 5 women)
Maui Nui Canoe Race is an ambitious undertaking that will challenge the skill and endurance of all participants. With about 100 miles of paddling this race will span a length of 3 days and take you to three different islands within Maui County.
The islands of Maui, Moloka'i and Lana'i are prime and the channels that surround it are also some of the most
challenging in the world. It is the goal of the Maui Nui Canoe Race Planning Committee to:
• Help keep the traditions of wa'a thriving on the neighbor islands
• Create partnerships within the community
• Share the Hawaiian culture with the visitor and educate the resident
• Help support local businesses and the economy
• Encourage healthy fitness lifestyle alternatives.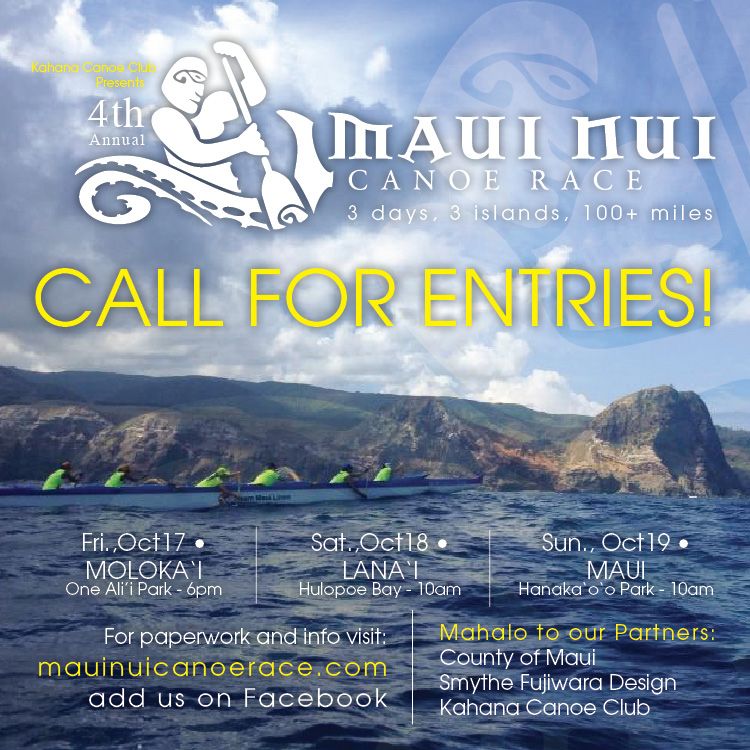 Posted by d20mp on Mon, 06/23/2014 - 12:28pm